Are you the kind of concert goer that saves the ticket stub after a show? Do you have dozens or hundreds of stubs at home? Your beloved pieces of cardboard can get a new life out of the box thanks to Lakeside Photo Works. This Louisiana-based company transforms these memories into a floor mat.
According to the blog Dangerous Minds, the ticket stub needs to be mailed to the company (Unless the fans have a really powerful scanner). Customers shouldn't worry, for the stub will be returned alongside your brand new mat. Available sizes are 24×36' and 36×60' and they start at 34 USD + shipping and prayer to the Canada Post gods.
Does this count as wiping your muddy shoes on your memories or a chance to get inspired by them as you cross the door on your way in and out? That's up to you.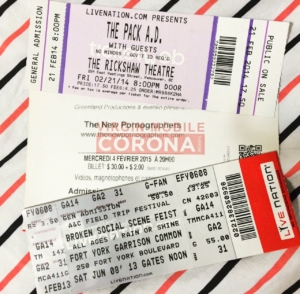 Are you a ticket stub collector? How many pieces do you have? Where do you keep them? Would you turn any of them into a mat? Let us know in the comments!
Featured picture by Lakeside Photo Works / Text and Canadian ticket stubs picture by Regina Sienra