By Michael Wynn
Oakville, Ontario, Canada – November 2, 2016 – Tokyo Police Club & The Elwins at the Oakville Centre for Performing Arts.  Oakville is located about 20 minutes west of Toronto, Ontario by car.
I've attended many events at the Oakville Centre.  But every one of them was a dance recital for my kids.  This was my first "music" concert here.
Full disclosure, I have known Graham Wright (Keyboardist, Guitarist) from Tokyo Police Club for several years, having worked with him at the CBC. On this night we met in the lobby, and he sat with me for the first few Elwins songs, hilariously belting out support for them in between songs.  I don't think they (The Elwins) knew what was going on until about 3 songs in.
Both groups have very similar backgrounds, meeting and forming their bands in Newmarket area Highschools.   The Elwins are led by Matthew Sweeney on lead vocals/guitar, with Travis Stokl on drums, Feurd Ian Robertson Moore on guitar/keyboard (pretty much the best mustache in Indie Rock), and Frankie Figliomeni on bass guitar.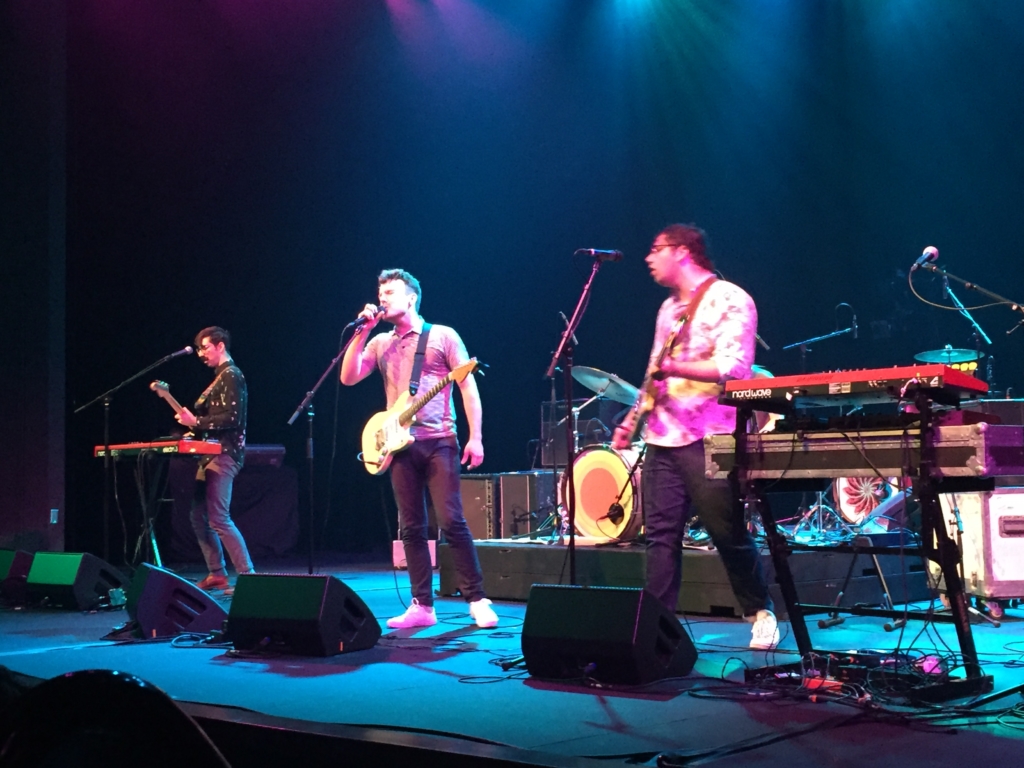 The Elwins kicked things off promptly at 8pm, playing a lively set. They played many songs those familiar with CBC Radio 2 & Indie 88 would recognize, including the catchy "So Down Low" and "Show me how to move".  At one point Frankie, the bassist, who seemed to really enjoy himself throughout the night, took over vocal duties on the song "Bringing Out The Shoulders".  Overall it was a great set. I'd recommend seeing them if you ever get the chance.
After a brief intermission, Tokyo Police Club kicked off their show with "Not my girl", which is on their earlier release this year, Mellon Collie and the Infinite Radness – Part 1. A large group at the back of the theatre stood up immediately and started dancing. Following the song, Dave Monks, the lead singer, quipped sarcastically: "Do we need to call security?". It was a very enjoyable set, and they played many recognizable songs.  The sound was easy on the ears. Not too loud but loud enough to enjoy the music without earplugs.
Tokyo Police Club consists of Dave Monks on bass guitar/lead vocals, Josh Hook on lead guitar, Graham Wright on guitar/keyboard and Greg Alsop on drums. Set highlights included: "Wait Up", "Tesselate", "Hot Tonight", "Bambi", "Nature of the Experiment", "What's your favourite colour?" – to name a few.  The highlight for me was the new song, "My House", which Dave prompted the audience to participate in singing along to.
For an Encore, the group decided to mellow things out with an acoustic set.  No microphones or sound system. This worked well in the theatre setting. "PCH" was the highlight for me during this part of the show, although it did remind me of the "PCH" marathon they put on, where they played the song 200 times, over the course of one day in June, with help from many friends and fans.
This year, Tokyo Police Club has put out 2 EPs, Mellon Collie and the Infinite Radness Parts 1 & 2. You can also get a vinyl version that aggregate's both EPs into one release.
Overall this was the first time I had ever seen Tokyo Police Club (headlining at least) and with the amount of recognizable songs they have in their catalogue they did not disappoint.  They have a very upbeat set of songs.  And I like the direction of their latest releases, the songs are catchy and mature without being too mainstream.
Upcoming Tour Info
Tokyo Police Club:
The Elwins: