Toronto – Friday, October 20, 2017 – Hollerado at the Horseshoe Tavern, with Little Junior and Calpurnia
Main Hollerado Photo by Tiffany Leeson
This was the second of three nights for Hollerado as part of the Horseshoe's 70th-anniversary series. Although this was the first night with Calpurnia and Little Junior opening. The first night had Dizzy the band and Everett Bird opening.
I haven't been to a show this full at the horseshoe in quite awhile, and after such a brutal week for Canadian Music, after the passing of Gord Downie, I felt very nostalgic being there.
"That night in Toronto, with its checkerboard floors", the memorable lyric from the Tragically Hip's Bobcaygeon, which pointedly describes the Horseshoe Tavern, was all I could think of as I walked in, it was hard to think of anything else. They also were showing the CTV broadcast of "Long Time Running" on all the TV screens in the front bar, which really hit home. Pictures of Gord everywhere.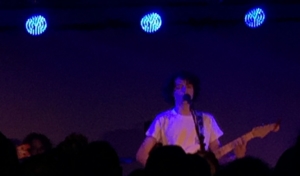 Once the doors were open, it didn't take long before it was difficult to move around.
Calpurnia was first up. The band is led by Finn Wolfhard, best known as Mike Wheeler on the hit Netflix series "Stranger Things". Wolfhard starred as a young Stefan Babcock in Pup's (another Royal Mountain band) video for "Guilt Trip", which also starred CBC Music's (formerly Radio 3) Grant Lawrence.
Their set was a mix of covers (Twin Peaks & Mac Demarco) and their own original material. The sound was hard to pinpoint, at this point they seem to have various influences.  Surf music & Mac Demarco instantly come to mind.  They are also a very young band, with Finn himself being 14 and everyone else seemingly near to that.
Calpurnia's sound is best described as surf pop, mixed with some 80's & 90's influences. This is surprising since Finn has stated that Pup were what inspired him to start his own band.
Little Junior (another Royal Mountain band), whom I hadn't seen before put on a very upbeat, pop punk show. They seemed a little sarcastic towards the crowd before them. Most in attendance it seemed were not familiar with the songs but were won over in short order.
Enlisting Ayla Tesler-Mabe, the Calpurnia Guitarist, Little Junior ended their set with Wheatus' "Teenage Dirtbag".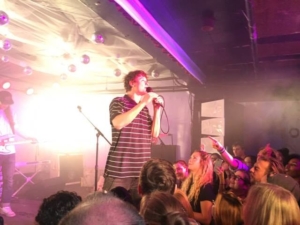 The first time I ever saw Hollerado, was at the same venue, back in 2007, they were a "REALLY" new band then. Record in a Bag hadn't even come out yet. As lead singer mentioned, there were only a handful of people at their first gig, I was one of them. This time things were much different.
Hollerado kicked things off with Grief Money, a song that really rocks on their latest record, you can see the Trump inspired video if you do a quick search. The whole set was just hit after hit. "Eloise", "I Got You", "Got to Lose", "Pick Me Up", "Juliette". The energy and the way the crowd was so into the band was wonderful to watch.
They ended their set the way you'd want it to end this week. 2 covers: Tom Petty's "Free Fallin" and the Hip's "Wheat Kings", giving a nod to what we lost this past week and month.
https://www.littlejuniorband.com/
https://www.royalmountainrecords.com/