Juno nominated Terra Lightfoot was back in Regina on Friday, February 23 and what a great show it was!  I highly recommend going to see her show if she comes your way. She rocks out and connects with the audience and with so much passion.
The evening started out with talented Regina singer/songwriter Tiny. I sadly only caught his last song but I am sure his bluesy folk set helped get the crowd warmed up.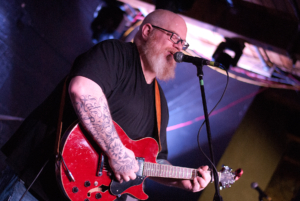 Next up was William Crighton from Australia. Wow what a powerful presence that man has! He stepped on to the stage and demanded our attention from his first note without the mic. His look out to the crowd and his strong deep voice let us know it was time to pay attention and pay attention we did. I was very impressed. You can find out more about him at his website.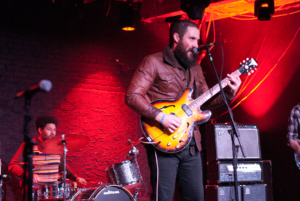 And then Terra and her band hit the stage and entertained and delighted us. Terra has a great voice and is a very talented guitar player. She gave us a gutsy, bluesy, soulful rock performance to remember. She was backed by a killer band, of Regina boy bass player and a drummer nicknamed "Regina Rob" (there was a story and a t-shirt to go along with it). It was a great night of music in Regina. If she comes through your town, go!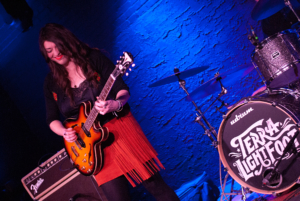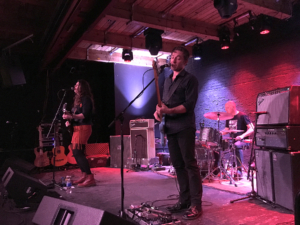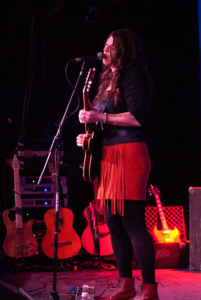 More photos from the show on Flickr.
There was a good article in our local paper about Terra and her life as a road dog.
Fresh from a four-continent tour that saw her play high-energy concerts across the United States, Canada, Japan, Australia and the United Kingdom, acclaimed Canadian rocker Terra Lightfoot has released a new video for her infectious single "Pinball King" and ­­­announced a new run of North American live dates for early 2018.
With her recently released album New Mistakes (Sonic Unyon), Canada's Terra Lightfoot offers up something rare: the kind of genuine document that can only come from a road-tested breed of songwriter and performer. Shot through with the guitarist-vocalist's powerful, bluesy soul, vivid lyrics and ferocious six-string virtuosity, it's an unforgettable outing.
The freewheeling video for "Pinball King" reunites Lightfoot with director Dustin Rabin (Foo Fighters, QOTSA, Billy Talent), and features a cameo from Luke Bentham of The Dirty Nil.
Canadian Tour Dates:
FEB 22 • Winnipeg, MB • The Good Will †
FEB 23 • Regina, SK • The Exchange †
FEB 24 • Saskatoon, SK • Capitol Music Club †
FEB 25 • Edmonton, AB • 9910 †
FEB 27 • Calgary, AB • Festival Hall †
FEB 28 • Nelson, BC • Spiritbar †
MAR 1 • Penticton, BC • Dream Café †
MAR 2 • Vancouver, BC • The Cobalt †
MAR 3 • Victoria, BC • Lucky Bar †
MAR 9 • Hamilton, ON • McMaster LIVELab §
MAR 10 • Hamilton, ON • McMaster LIVELab §
† With William Crighton
§ With Hamilton Philharmonic Orchestra String Ensemble