Last weekend I headed off to Gateway Music Festival down in Bengough, Saskatchewan. Bengough is the gateway to the Big Muddy Valley where outlaws of old hid out in caves. A bit of outlaw vibe remains in the area and there couldn't be a music festival here without a little bit of country. Gateway Music Fest's Artistic Director, Mike Dawson, does a great job of mixing a little bit of country and a little bit of rock and other genres and lots of Saskatchewan talent along with the headliners. This year was another great year of music. The big highlights for me were Kathleen Edwards, Elliott Brood, Yukon Blonde, Terra Lightfoot and John K Samson but there was so much more to like about it.
This year my sister and I bought a tent trailer and this was our first trip with it. We decided to camp at the campgrounds this year and see how that went. Our camping spot was right by the pool, and that turned out pretty good for us. The pool meant we had access to flush toilets and showers when it was open. We also could listen to the music at the pool stage on Saturday from our campsite while we relaxed in the shade and had food and drinks. The area was the quiet family area and that suited us just fine.
Friday afternoon we missed the first couple acts while we were setting up camp but got over to the festival in time for Surf Dads. These guys rock. I have been wanting to catch these guys and liked their set. I look forward to hearing more from them.
We turned our chairs towards Kara Golemba for a quieter set. She was quite lovely with a beautiful voice.
Chairs turned back to the Garden stage for Gunner & Smith, a country roots rock band. I liked their more rockin out tunes the most.
Poor Nameless Boy was up next. He is a Regina artist that has been working hard and touring lots the past couple years. I enjoy watching his progress and I love hearing him sing.
Another Regina artist favourite, Belle Plaine, was up next. Such a warm lovely voice she has. She is a bit more country these days which works for her. I personally prefer jazzier Belle Plaine but I love her no matter what direction she goes in. I look forward to hearing the album that is coming out in October.
Turning our chair back to the main stage, we were then serenaded by William Prince and his smooth deep voice.
Things really picked up a notch when Terra Lightfoot hit the stage. She sure can bring the rock. A definite highlight of my weekend.
The Kentucky Headhunters surprised me. I wasn't expecting to enjoy their Southern country rock as much as I did. They are seasoned pros and what's not to love about a crazy character doing a fantastic drum solo?
Yukon Blonde had a great set with their heavy riffs and smile inducing rock.
Big Sugar hit the main stage next. Another group of seasoned pros that entertained us. Their recently deceased bassist Gary Lowe was on all our minds and is missed but Grady bassist stepped up and filled his shoes.
Chixdiggit and Small City Blues ended the night of music in party mode. They sounded great from back at our campsite. Us old folks just can't party like we used to! I went to sleep tired and happy.
Saturday I went over to the Garden Stage to catch Ryan Hicks with his band. I had only seen him solo so it was nice to hear him with the backing band.
I stayed for another Saskatchewan artist I know. Brodie Moniker had a fantastic set and had me up dancing. I sure hope to hear more from Brodie.
I headed back to my campsite and listened to the music from the pool there. Alley Dawgs was one of the bands playing. Marshall from Rah Rah explores his country music yearnings with that band. I didn't get over to get pictures of them. That would have been too much work at that point. I regret missing some bands over at the Garden Stage but especially Natural Sympathies who had some dancers with her. I am pretty sure I will be able to catch her at Regina Folk Fest this year though. We did get there in time for Nick Faye and I am glad we did. Another Saskatchewan artist I am loving these days.
Library Voices are still a very fun band to hear and see. Their music has evolved over the years with versions of old favourites being updated. They are still great fun to sing along with and I thought about many of our old R3 friends that would have loved to have been there to see Carl dance.
Ellen Froese was up next. I knew very little about her. She has a great voice and I expect I will hear more about her in the future.
Seth Anderson was another artist I knew little about. He is originally from the east coast but is living in Alberta these days. Another great voice and I enjoyed his catchy heartfelt tunes.
We once again turned our chairs to the main stage with Zachary Lucky there to entertain us. Another wonderful Saskatchewan artist. My favourite of his set was when Belle Plaine joined him for the the song Saskatchewan. So lovely.
Festival favourites Karpinka Brothers were up next and brought some smiles to people's faces.
Megan Nash who keeps getting better each time I see her was on next and had a fantastic set. She brought up a couple Bears in Hazenmore and her Space Cat to help her on a couple songs.
John K Samson was probably my favourite of the weekend. Such an amazing songwriter and we got to sing along to One Great City, Sun in an Empty Room, A couple of Virtute songs and so many more. Love that guy.
With my heart full already, Kathleen Edwards hit the stage. So great to see her back up on the stage and with Jim Bryson there with her. And she still tells great stories!
Just when I think it can't get any better, Elliott Brood start playing over on the Garden Stage. Even with some guitar tuning troubles they were great. My favourites are the older tracks. So many great memories tied to them.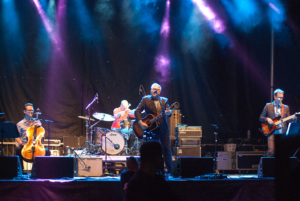 Steven Page was last up on the main stage. It was cool to see him and he has a great voice. I am not a huge fan but he put on a good show and had some heartfelt stories to tell as well. Some of those fell on drunk deaf ears up front unfortunately. There were a lot of drunk people around but there were few incidents and no drunk driving tickets given out. Most people just stumbled over to their campsite and I didn't hear of any drunken brawls either.  We again  listened to the last couple party bands from our campsite. I am sure a good time was had by all.
We got up the next morning and went over to have our pancake breakfast and then packed up and went home. It was a great weekend of music and thank you very much to everyone involved with Gateway Festival that worked so hard to put on a great event! I will be back and I recommend it to everyone.
Take a look at more photos from the festival over at Flickr. Photos on Flickr
If you didn't listen to the playlist a couple weeks ago when I posted it, I encourage you to check it out this week.
Or you could check out the Summer playlist compilation. It has over 5 hours of summer songs and growing. Let me know what songs you would like added to it.