That's right, it is another double playlist week here at OurBasement. Last weekend I spent out in the extreme heat because I love music and couldn't miss it. I will give a bit of a rundown of my weekend although I only have a few crappy phone pics to go along with it this time. The other playlist is artists from The RagTag Misfit Tour. They are stopping in Regina this Sunday and I helped set up the show. I wish you could all come to help me support traveling musicians in Regina but check out their tour schedule below and see if there is a stop near you.
Now about that festival…it was fantastic! The line up was an off year last year for me personally but not this year. With headliners like Shakey Graves, Tanya Tagaq, Neko Case, and Bruce Cockburn and Michael Franti it was sure to be good. Add in some other great acts like Pierre Kwenders and Dakhabrakha and it was a win for me. It started out hot on Friday with The Deep Dark Woods. Ryan Boldt's unmistakable voice led the band on some dark and stormy tracks. Kacy of Kacy and Clayton joined the band and her voice blended with Ryan's is a beautiful thing. The tweener was Ava Wild and she was joined by Brodie Moniker. It was a "wild" and passionate set and Ava seemed to really enjoy her time on the big stage. DJ Shub, formerly of A Tribe Called Red, brought the dance party with his electric pow wow and a couple of dancers.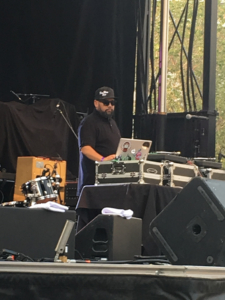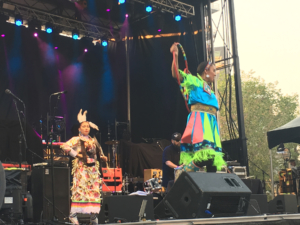 Eekwol & T-Rhyme lay down some powerful words for us to hear. And the Rev. Sekou sang it loud and brought the gospel. I enjoyed Natural Sympathies tweener set especially because a couple people I know where her back up dancers. Very cool. Shakey Graves had a marvelous set and played his new different sounding tracks along with the old favourites. Walk Off The Earth are entertaining and very pop. They have a well choreographed set and lots of changing of instruments going on. It is pure fun. That was the end of day 1.
Saturday was the hottest day I have ever experienced I believe. The temp went up to 42 C last I heard. Ridiculous! The fe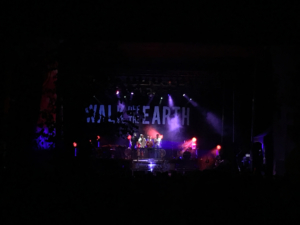 stival is held in the park in downtown Regina and was a short walk away. It was like an oasis in the desert. It wasn't so bad if you stayed on the grass in the shade but venture out of the park and it was awful. We took in a few hours in the park and enjoyed the workshops with Gabrielle Shonk/Pierre Kwenders/Matt Holubowski and Ndidi O/Ellen Froese/The Deep Dark Woods and a bit of Rayannah/Hannah Epperson/Zachary Lucky. Highlights of the afternoon for me was Pierre Kwender trying to figure out how this workshop thing worked and his band mate playing sax with a guitar and Ryan's deadpan introductions of the other artists with him. He is hilarious to listen to.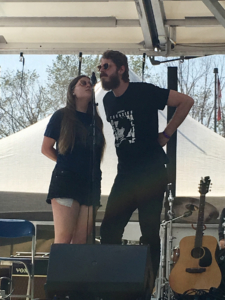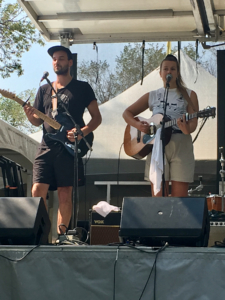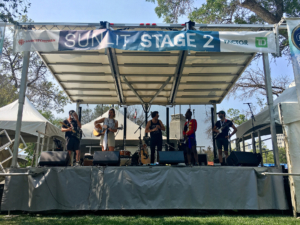 We went back to air conditioning to chill out for a couple hours before coming back to the park. The Saturday evening line up was my favourite and it was wonderful despite the heat. It began with Gabrielle Shonk an up and comer from Quebec City. She has a promising career ahead of her. Zachary Lucky, formerly from Saskatchewan, played the tweener with his country folk ballads to serenade us before Ndidi O hit the stage and wowed us with her soulful silky voice and her powerful music. Rayannah from Winnipeg, charmed us with her loops and layers while the stage got set for my fav of the weekend Pierre Kwenders. I discovered Pierre on his last album and loved his Polaris Music Prize short list album even more than I did that one. He danced and sang and his band played and we had a wonderful time.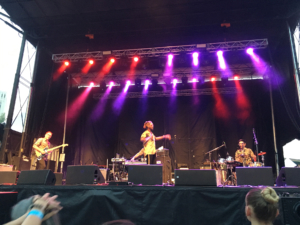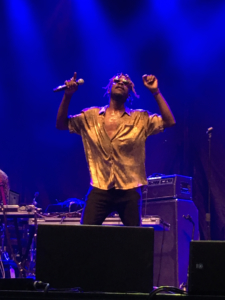 I was recovering from that during nehiyawak's tweener set but I have liked what I have heard from the Treaty 6 trio. Tanya Tagaq was just Wow. She was suffering from heat stroke and soaked her dress in ice water to get her through. The set was just one long improv and was incredibly raw and mesmerizing. Hannah Epperson is an artist I love and didn't get to hear enough of this weekend. I enjoy her voice, violin and looping  and uniqueness. The night finished off with the fierce Neko Case. She has earned much respect for her talent from me. I was a fan of her but not always her music. I am on board now. The woman is a pro.
On to Sunday. It was still hot but not near as hot as the previous day. We started our day with learning how to make borscht with Dakhabrakha with the help of their interpreter. They told stories and sang some traditional folk songs from Ukraine. We left before the borscht was done to hear my favourite collaboration of the weekend at Stage 2 with Las Cafeteras/DJ Shub/Pierre Kwenders/Ndidi O. It was one of those magical collaborations I love to hear. I was looking forward to the next group with Tanya Tagaq but unfortunately she was ill with the heat stroke of the day before and sent a couple band members in her place. Them and DJ Shub/Eekwol and T-Rhyme/nehiyawak put on a pretty good set with some awesome moments. The next group was great fun. Bruce Cockburn/Ellen Froese/The Deep Dark Woods/Zachary Lucky. This wasn't a collaboration workshop but it was fun to see them and Bruce interacting. Ellen was very charming and adorable in her nervousness next to Bruce. Zachary mentioned how terrified he was standing performing next to Bruce and Bruce then made a funny face with his hands on his head. Ryan was again hilarious keeping the workshop moving.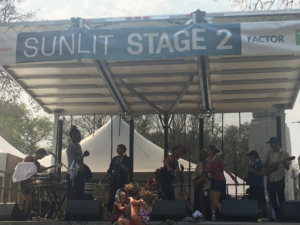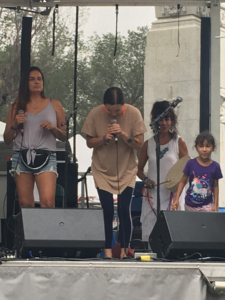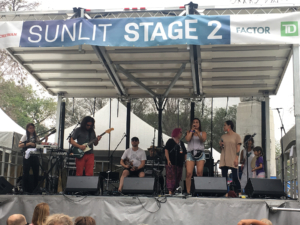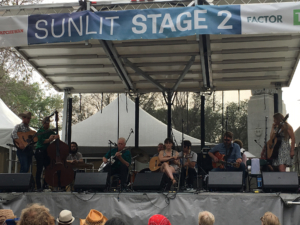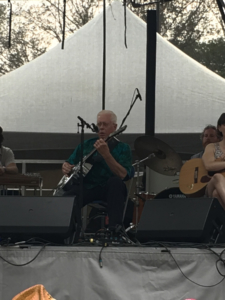 Las Cafeteras started the evening off with their political East LA afro-mexican music. Respectfulchild is an electronic looper that I want to check out more. Very interesting sound. But then Dakhabrakha, from Ukraine, were ready and they were another favourite of mine. Having experimented with Ukrainian folk music, the band has added rhythms of the surrounding world into their music, thus creating bright, unique and unforgettable image of DakhaBrakha. They are original and outstanding. Being blown away again, I didn't give Riviere Rouge enough attention. They are a Quebec band playing some traditional and Metis fiddler music. They play with violin, accordian and guitar and I unfortunately didn't get to hear them much on the weekend. They also don't seem to be on Spotify. Moving on though, we then we entranced by Bruce Cockburn. Just Bruce and his guitar put on a great performance for us. He was charming and that man can sure play guitar. Speaking of charming, Ellen Froese was the tweener and the more I hear from her the more she wins me over. The festival closed with a rousing uplifting set from Michael Franti and Spearhead. The man seems to be on a mission to bring peace, love and joy to the world. Most of the audience was up dancing for the whole set. Michael came into the crowd and I was going to high five him but he had the mic in that hand. Haha! I put my hand on his arm instead. We danced with and hugged the strangers around us and most of us let go and had fun. All in all it was a great weekend and my heart was full. <3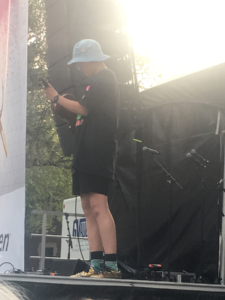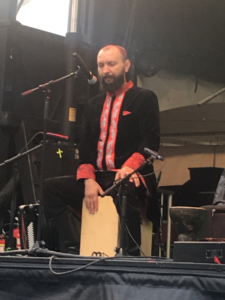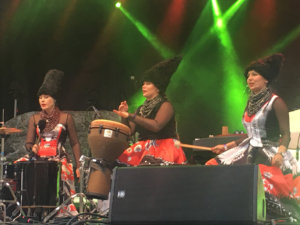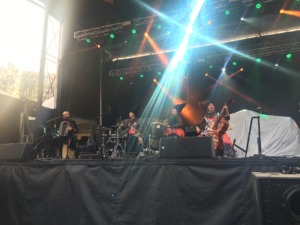 Check out some of the music from the weekend on my Spotify playlist.
I am looking forward to the RagTag Misfit show on Sunday night. It is sure to be a hoot! They played in Brandon last night and are in Langenburg tonight, Saskatoon on Saturday and Regina on Sunday. They continue on west ending up in Victoria BC September 8. Catch the show if you can. Check out the Spotify playlist with 3 of the artists on it. Oldseed didn't seem to be on Spotify so you can check out a few of his videos on YouTube.