It's Release Radar playlist time! The playlists that let you know what is new each month. There is a Spotify Release Radar playlist and a YouTube new video release playlist. Some of the tracks in the videos can be found on the Spotify playlist but the playlists are quite different and you should check them both out.
The YouTube playlist has over 30 new uploads. There are a few new videos from the N'we Jinan project. I had the opportunity to meet and hear one of the Saskatchewan groups and found it very powerful. There is also an interview video and Shad's album trailer but most of the others are official videos, some are lyric videos and there are some live videos. They are pretty fantastic!
The Spotify Release Radar playlist has over 90 songs on it this month. They are mostly new releases with some tracks being teasers for upcoming albums and a couple are remixes. I did throw on a few tracks that came out a few months earlier because I missed them and just found out about them. There are many tracks from artists that have been featured here on OurBasement as well. This month I was most excited about the songs from Foxwarren, Les Trois Accords, John K. Sampson, Belle Plaine and a few more.
Royal Canoe, Mounties, Shad and Moonface all had more tracks for us to enjoy this month as well. Keep them coming! The Saskatchewan artists with new tracks are Colter Wall, Belle Plaine, The Johnny McQuaig Band, The Pistolwhips, Samurai Champs, and Too Soon Monsoon. Foxwarren is another project of Saskatchewan boy, Andy Shauf. I love to promote my Saskie artists!
Featured Tracks:
Lutra Lutra's "Psychopath & The Philosopher."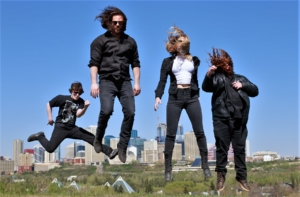 The feisty track weaves together references to dueling house cats, philosopher Slavoj Zizek and  The Sound of Music."A lot of my lyrics are written in the shower," says frontman Garreth Burrows. "I never want to be too serious or melancholy because I'm not. There's humour in everything, no matter how dark or sad. I don't really fashion myself as a storyteller, either. I'm more of a point-maker."
Lutra Lutra's full-length debut, Psychopath & The Philosopher, bursts with hip-shaking bass grooves, fiery guitars, frenetic keys and catchy lyrics about love, devils and satellites. Dive a little deeper and you'll hear wry and menacing tales of inner struggles, morality and felines sung by Garreth and his sister/keyboardist Katrina. You could say Lutra Lutra's music is a lot like its namesake — the Eurasian otter. "They're very feisty, sneaky and bitey," says Katrina, who used to work as a zoo interpreter. "They have a sense of humour but they know when to fight back."
The 10-song album, produced by Royal Tusk guitarist Quinn Cyrankiewicz (Nature Of, Calling All Captains), follows Lutra Lutra's self-titled EP (2016) and a Western Canadian tour. Psychopath & The Philosopher, also starring childhood friend/bassist Will Smith and drummer Denis Frigon, roars with a menagerie of sounds reminiscent of genre-bending acts such as Mother Mother, Arctic Monkeys, The Doors, Red Hot Chili Peppers and System of A Down. The Burrows grew up with their own menagerie in Red Deer — five donkeys, four dogs, two horses and 23 cats — and initially started off as an acoustic duo known as Katasaurus Wrecks. "Katrina and I had never played together up until this point," says Garreth. "I was always jamming along to drum tracks in the basement on my electric guitar and she was playing classical piano upstairs and we would yell at each other to shut up. So we never thought this could work together."
Work it does — and spectacularly well. You can find the track on the Spotify playlist.
Midnight Shine's "I Need Angels"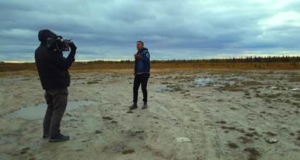 I Need Angels was written by Adrian Sutherland, with Midnight Shine bandmates Zach Tomatuk and Stanley Louttit as co-writers, and John-Angus MacDonald (The Trews) producing. It's from Midnight Shine's third album, High Road, which came out in spring 2018. Sutherland hopes that ultimately, I Need Angels will serve to help others. Anyone who would like to have the song can download it for FREE from Soundcloud: https://soundcloud.com/ midnightshineonline/i-need- angels
A production crew of three travelled up to Attawapiskat on the coast of the James Bay in early October to shoot the music video for I Need Angels – the first music video ever to be shot in the community. The locations were absolutely stunning in the changing fall colours, and well worth the many logistical challenges of shooting in such a remote place.
Given the nature of the song, Sutherland thought it would be fitting to create awareness of mental health and the suicide epidemic in Canada's North. To do this, a picture frame was used in the video, featuring haunting images of five different young people who have taken their own lives. The photos came in from families in different part of Canada, willing to share the precious memory of their loved one in order to try and help someone else.
The video was produced and co-directed by Midnight Shine's manager RoseAnna Schick, and shot and directed by Vancouver-based cinematographer Cliff Hokanson. The two made one rock music video together nearly 20 years ago, and reconnected by chance this summer just in time to make I Need Angels. The video is at the start of the YouTube playlist.
Enjoy the playlists!!