By our chief California correspondent Lee Hower
"You are the FIRST person outside of my wife and my bandmates to know about this show." Those were the words in an email I received from Grant Lawrence on July 22. He was letting me know that his band, The Smugglers, were getting back together for a reunion show to be held at a legendary all-ages punk club in Berkeley, California, as a celebration of Lookout Records, a famed punk record label here in California. The former owner of Lookout Records was having this celebration and wanted to get all of their old punk bands back together for a grand show over several days. Grant wanted Peggy and me to attend. I wouldn't miss it for the world!
I actually knew about it for a couple of months before it was announced publicly, and Grant gave me updates on the plans for the show and that it was the first time in 13 years that the Smugglers would perform again. Since my exposure to Canadian music really started long after the Smugglers went into hiatus, going to see them would be strictly to see Grant and his band, not to attend a "CBC Radio3" related show.
As the show date approached, the weather report was not promising. California was forecast to be walloped by an epic warm winter storm that would melt the recently fallen snow in the mountains and have heavy rain in the valley. After some debate, we decided to leave our car in Sacramento, choosing to ride the Amtrak Capitol Corridor train service down to Berkeley and use taxis to get around. I chose a hotel that was walking distance from the Berkeley train station, and we were set. Turned out perfect!
After getting down to our hotel and getting something to eat, we got a Lyft ride out to the North Berkeley Public Library, where there was a book reading by five authors. Grant was the second speaker, and told a story from his new, yet unfinished book "Dirty Windshields" about his touring days with the Smugglers. It was a story about their tour to Japan, and Grant, forever the showman, told the story with his usual exuberance. It was great to hear him again. I also saw his best friend and bandmate, Nick Thomas once again, and I got a chance to meet Nick's wife. Pretty cool. We caught a ride back to the hotel with a gal who is a Smugglers fan from back in the day who lives in Sacramento and who came up to Vancouver to attend the Smugglers 15th anniversary party well over 10 years ago. Alas, she knew little of CBC Radio3 and Grant's time there.
She picked us up from the hotel at 5pm, and we went to this legendary venue that was celebrating its 30th year and simply named for its street address, 924 Gilman. Grant described it as a rough place, as it is nothing but an old warehouse with a stage and a small "Stoar" where they sell sodas and snacks. No alcohol. And nothing to do but stand. We were there early, saw Sacramentan, Kepi Ghouli, who had his band, the Groovie Ghoulies back when he was married to his wife, but after he performed, we split for dinner, missing the next show or two.
What was fun about seeing this show were all of these older guys trying to perform like they were 19 again. We especially enjoyed one band, Brent's TV, who apparently met at Humboldt State University in northwestern California. They rocked out, and I was wondering if someone was going to have a heart attack. Little did I realize that this was just a warm up for The Smugglers.
Finally it was time. And there they were looking like Smugglers should: cheap suits, white shirts, ties and rubber rain boots. They took off, played their asses off, and these 40 and 50 year olds tried to be back in their 20s. And Grant Lawrence, played it like in the old days. Danced, jumped, yelled, waved his arms, played to the crowd, and gave it his all. It was just amazing. And the power of their music triggered a bashing mosh pit that Peggy and I had to step back from to avoid getting pummeled.
The band went through most of the songs that I'd heard at one time or another on Radio3. It really was great. Grant ended up removing his tie and jacket and stepped outside into the light rain gasping for air. He was really beat. And then the unexpected. Out from the stage door walked a woman I instantly recognized. Jill Barber. When Grant turned to look at her, she had this great big smile, and Grant's mouth dropped open. It was so incredibly cool! Since the Smugglers ended before Jill had met Grant, she came down to see him perform, and did it without telling him. He was so thrilled!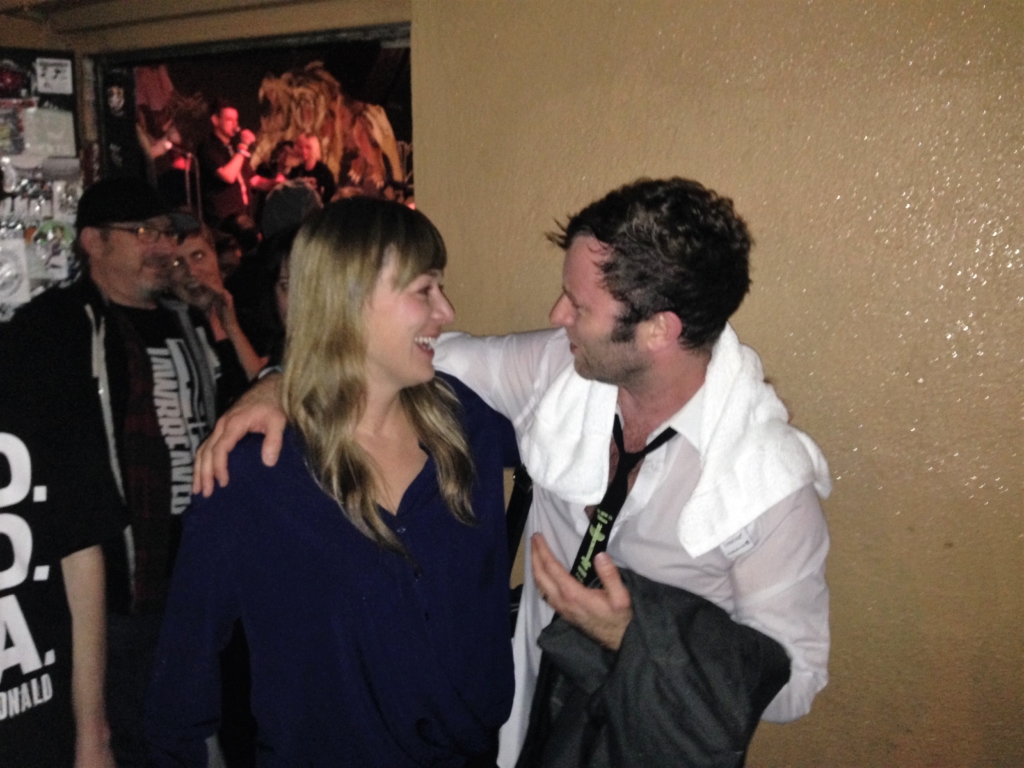 Although there were a couple of acts left to perform, Peggy and I were done, grabbed a cab and went back to the hotel. A quick shower and we crashed. Up early the next morning, showered, a quick breakfast, and back the four blocks in the rain to the station, on the train, and home. But we then rushed home to get ready for our house guest. He didn't bring his rubber boots, but could have used them here.
It was really an amazing event, watching so many old punks and rockers getting back into that scene once again. True, Peggy and I were sort of out-of-place, but not really. Everyone was happy to be there, including those kids out there on the floor smashing into each other. As for the Smugglers themselves, they all looked like they were having such a good time, recapturing those old times, if only for an evening. I believe I was the only member of the Radio3 community to be there.
Are you, like me, suffering from ROMO? Who would you like to see reunite for your perfect dream gig? Let us know in the comments bellow.